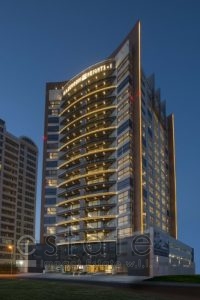 Kazerooni Group, the premium acclaimed developer in the Kingdom of Bahrain, hosted on October 2nd 2018 an open house event and tour for prominent real estate agencies at their newly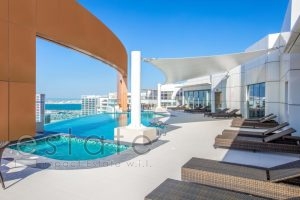 opened property; Kazerooni Heights 1.
The event was a great opportunity for agents to get introduced to one of Bahrain's iconic developments located in Amwaj Islands by the scenic Lagoon. Guests were treated to an elegant cocktail gathering and presentation at Kazerooni Heights 1's rooftop multi-function hall and it was followed by a full tour and viewing of the property.
During his keynote word, Mr. Husain Kazerooni, the Managing Director of Kazerooni Group, stated the group's vision behind the architectural concept, where he was quoted: "Situated in the heart of the Lagoon, The concept behind Kazerooni Heights 1 was to achieve an uninterrupted view of the Island and beyond. The building exudes a timeless elegance against the Amwaj skyline, befitting the original architectural vision – to be the most sought out address in the Island".
Mr. Kazerooni reflected also on the 45 years achievements of the Kazerooni Group, which has built its success with an exemplary passion and values. By adding Kazerooni Heights 1 today to the portfolio, the group seeks to offer investors, homebuyers and tenants as well, bespoke tailor made financial options with the highest guaranteed returns while enjoying the finest levels of comfort and luxury.
During the presentation that was facilitated by Ms. Patricia Powell from Impact Estate, the award winning real estate agency and property management firm, guests were exposed to some of the most lucrative guaranteed investment options, where investors and buyers will enjoy secured Returns On Investment of 8.25% over seven years which translate into an accumulated revenue of 57.75% over the seven years period.
The highly informative presentation was followed by an exclusive property tour and viewing of some of the 101 luxury apartments ranging from 88 square meters for a one-bedroom apar tment, to more than 250 square meters for a three-bedroom apartment.